Wow! What an amazing weekend! For those of us who were visiting that course for the first time ... WOW! St Pete is beautiful. The venue was huge. There was a large expo that ran all weekend with lots of equipment and stuff to look at and try out.




The Meek & Mighty Kids race was on Saturday and our very own, Drake Bosch performed well sporting his new Blanchard Park Y Tri team uniform. It was a 200 yard pool swim (remember the snake warm-up that Coach Jacklynn has us do ... that was the race, it was cool!) followed by a 5.4 mile bike and then a 1 mile run.




All of our athletes and support crew met up for a nice italian dinner Saturday night at Gigi's. We took up 3 huge tables in the back of the restaurant and sat close enough to be able to talk with just about everyone there. Afterwards, we went outside for a team picture because with the staggered start times, we knew it would be very difficult to get everyone together at the same time.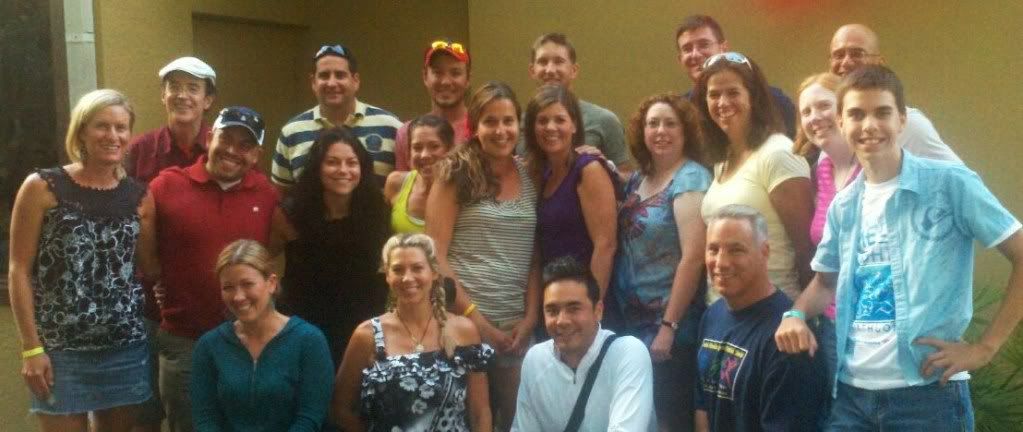 Then (oh so early) Sunday morning we headed down to the race to finish setting up our transitions and get ready to start. Because of the massive number of people competing in this race, they closed transition at 6:45. The pros were starting at 6:50. But athletes from the Blanchard team started at a little after 7:00, then around 8:00, more around 8:20 and the last of us by 9:10. So our finish times were quite staggered as well but our amazing friends and family did a great job of supporting us and cheering us on through the whole thing. What an amazing experience. I can't wait until next year.

BIB
NAME


SWIM



BIKE



RUN



TIME
2665
Barry Leathers



21:34



1:10:35


53:54



2:32:42
404
Britney Alberson



18:41



1:18:03


50:13



2:33:38
1539
Jacklynn Stroz



16:33



1:15:21


56:48



2:35:19
1543
Renee Tercsak



17:59


1:22:00


54:17



2:41:37
2282
Joshua Wilson



22:05



1:19:39


53:01



2:41:44
2349
William Gonzalez



20:30



1:19:14


54:26



2:42:40
1712
Kim Tranter



19:25



1:19:41


56:47



2:45:03
3684
Rigo Davilla


22:37


1:22:00


59:06


2:52:00
1642
Amanda Leathers



22:43


1:22:42


59:54


2:54:41
609
Brice Gyurisko



24:34



1:29:01


55:11



2:57:36
599
Douglas Gerard



21:11



1:20:25


1:05:15

2:58:35
1739
Tracy Bosch



24:22


1:17:48


1:08:42


3:01:22
2642
Ron Irizarry



24:05



1:28:08






3:19:13
341
Megan Montgomery

22:47



1:43:33


1:15:06

3:31:55
402
Julia Warren



23:05



1:30:18


1:24:52

3:32:25
3686
James Diaz



37:55



1:54:15


1:14:17

4:10:35




















315
Drake Bosch



4:19



19:37



7:40


36:03






















and just for the fun of it …













71
Sara McLarty



11:31



1:01:15


40:46



1:58:08